The Elections and Boundaries Commission is calling on ALL political parties, candidates contesting these upcoming elections, electors and all our other democratic stakeholders to respect the law or be prepared to face the consequences.
Bribery, Treating and Undue Influence have specific definitions under the laws of this land. Persons fould guilty of any of the aforementioned offences are liable onconviction to a fine and imprisonment.
For more information,please see this informative flyer.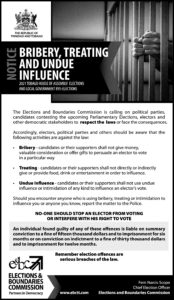 Bribery, Treating and Undue Influence 2021 THA and Local Gov't Bye-Elections